Investor Relations
About Us
S&T Bancorp, Inc. is a $7.1 billion financial holding company headquartered in Indiana, Pennsylvania with three wholly-owned subsidiaries: S&T Bank, 9th Street Holdings, Inc. and STBA Capital Trust I. S&T also owns a one-half interest in Commonwealth Trust Credit Life Insurance Company. S&T trades on the NASDAQ Global Select Market under the symbol STBA.
Founded in 1902 with a single location in Indiana, PA, S&T Bank now provides a full range of financial services to individuals and businesses in 17 counties in Pennsylvania and northeast Ohio, with loan production offices in central Ohio and western New York. Stewart Capital Advisors, LLC, is a wholly-owned registered investment advisor subsidiary of S&T Bank. Please click here for more detail.
S&T has always maintained a sincere interest in both its customers and the success of the local community. This interest has helped S&T meet its customers' needs with quality banking services as well as foster the economic vitality of its communities.
...

More »
S&T Bank believes in "Relationship Banking… One Customer at a Time." The bank embraces the notion that each customer - from the local business, to a family, to an individual - has unique needs and individual financial goals. S&T Bank works diligently to establish relationships with customers so that the bank can identify their individual needs and formulate a plan aimed at exceeding their goals. By doing so, S&T Bank earns their trust and their confidence.
S&T Bank's mission is to become the financial services provider of choice in western Pennsylvania by delivering exceptional service and value… One Customer at a Time.
« Less
S&T Bancorp, Inc. Rings Nasdaq Closing Bell Celebrating 25 Year Listing Anniversary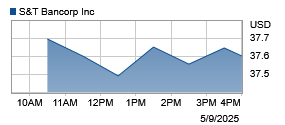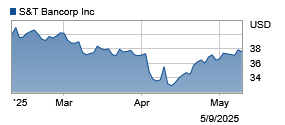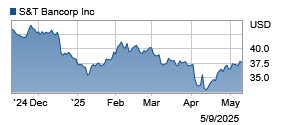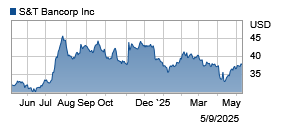 Contact Us Today