Investor Relations
Corporate Profile
S&T Bancorp, Inc. is a $9.4 billion financial holding company headquartered in Indiana, Pennsylvania. S&T trades on the NASDAQ Global Select Market under the symbol STBA. Founded in 1902 with a single location in Indiana, Pennsylvania, S&T has expanded to five regional markets including Southwestern Pennsylvania (Pittsburgh), Eastern Pennsylvania (Harrisburg), Northeast Ohio (Akron), Central Ohio (Columbus) and Buffalo. S&T provides a full range of financial services to individuals and businesses in Pennsylvania and Ohio and has loan production offices in Buffalo.
S&T has always maintained a sincere interest in both its customers and the success of the local community. This interest has helped S&T meet its customers' needs with quality banking services as well as foster the economic vitality of its communities.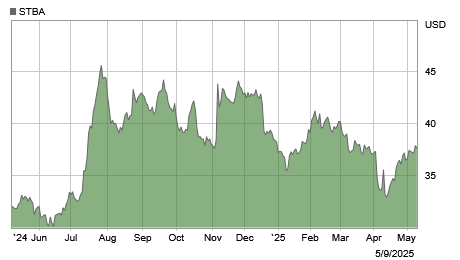 Data Provided by Refinitiv. Minimum 15 minutes delayed.
Press Releases
June 13, 2022
April 21, 2022
April 19, 2022